We offer yearly service maintenance agreements along with furnace inspection and cleaning services. Whole house comfort systems can be installed in your home to provide year round comfort control. Many options are also available to update your current system.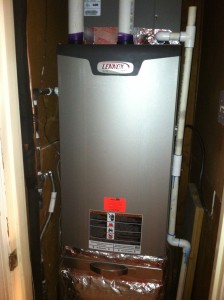 Gas and Oil Furnaces – Modern furnaces can be 98% efficient and operate without a chimney. The small amount of waste gas and heat are mechanically ventilated through PVC pipes that can be vented through the side or roof of the house.
Gas and oil-fired Boilers – Gas and oil fired boilers provide warm, consistent radiant heat for your home or business by creating and circulating steam or hot water through insulated pipes and into baseboard or radiator type systems. From there the heat is then transferred to the house or business when the air in your home moves across the outside of the radiators and absorbs the heat from the heated metal surface.